Investment Criteria
Rubicon invests in enterprise software companies where we can uniquely contribute as a partner to accelerate growth and establish a clear market leadership position. Strong cultural, operational and strategic alignment with management teams is core to our investment approach, and we will only invest alongside teams with which we can build a common view of the right strategy and its execution together.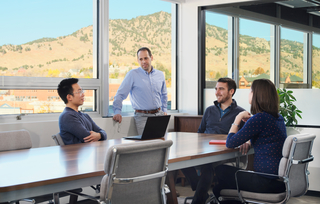 Rubicon partners with enterprise software companies that have demonstrated the ability to capture and retain market share with the following key criteria:
Market-leading product capabilities
Sustainable technology advantage
Stable relationships with their customers based on proven value
Demonstrated ability to execute and evolve
We make majority equity investments of $75 - $350 million into enterprise software companies with annual revenue of $15 – 75 million for initial platform investments, and add-on acquisitions of any size. Consistent with our core philosophy of alignment, we partner with management teams in pari passu common equity structures.